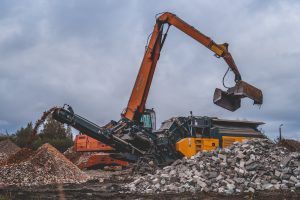 We are providing disassembly services of different difficulty levels:
disassembly of building structures;
disassembly of any kind of cranes and other objects;
disassembly of various metal structures (crane trucks, cranes, barrels, fences, bridges, driers and other structures);
disassembly of agricultural machinery;
disassembly of buildings and structures.
disassembly of shipwrecks.
Company manager assesses the work volume at the site, and afterwards a brigade of qualified workers will commence the work and perform disassembly, cutting and transporting to a scrap metal purchase location of the given object within minimum time-frame.
Works are performed in compliance with all labor safety and protection norms.
All required permits are at hand.
Upon agreement, we also perform cleaning of the object territory.
Utilization takes place in compliance with all environmental protection norms.
Manager: Atis  +371 28258964, e-mail atis@tolmetsvidzeme.lv